This shop has been compensated by Collective Bias, Inc. and its advertiser. All opinions are completely my own. #RegisteringForBaby #CollectiveBias
If there's anything I've learned as an "experienced" (I use that term loosely) mom, it's that although babies really don't need a lot of the products that are being flung in your face as an expecting mom, there is plenty that they do need, again, whether it's your first baby or not.
So it's true that with four kiddos at home we have a lot of the "big ticket items" in place already, especially since all my little ones are relatively close in age. However, there are essentials that every baby needs, which is why it's always a good idea to open a baby registry, no matter how many times you've done it.
"But Justine," you say, "I'm not having a baby shower for my (insert number here) kid! Why would I open a registry?"
Well, there are a few reasons why it's always a good idea to open one, whether you're having a baby shower or not!
The hubby and I recently headed to our local Target to open up our baby registry (can you believe I'm in the third trimester already?!) and I wanted to share with you some of the essentials that I made sure to include. So whether you're expecting another bundle of joy yourself, or trying to think of what to get a friend of yours that will actually be helpful, here are some ideas from an "experienced" not-so-first time mom.
baby essentials you need
diapers & wipes
I think we can all agree that no matter what, every baby is going to need tons of diapers and wipes to take care of tons of… well, you know. So whether you're a fan of cloth diapering or just like to use disposable, be sure to register and stock up on the brand you love. After all, if you have lots of little ones already then you know what brand works the best for you. We have one brand that our household loves and I don't buy anything else, so now by looking at the registry if anyone wants to generously purchase some diapers or wipes for us they'll know what kind we like!
bath products
Other consumable baby items are bath products so go ahead and register for those. You probably have a pretty good idea about which ones you prefer so register for the brands you love! My children have all had fairly sensitive skin for the first couple years so we're big fans of Aveeno® baby wash and moisturizer. It's lightly scented and gentle on my little ones' skin.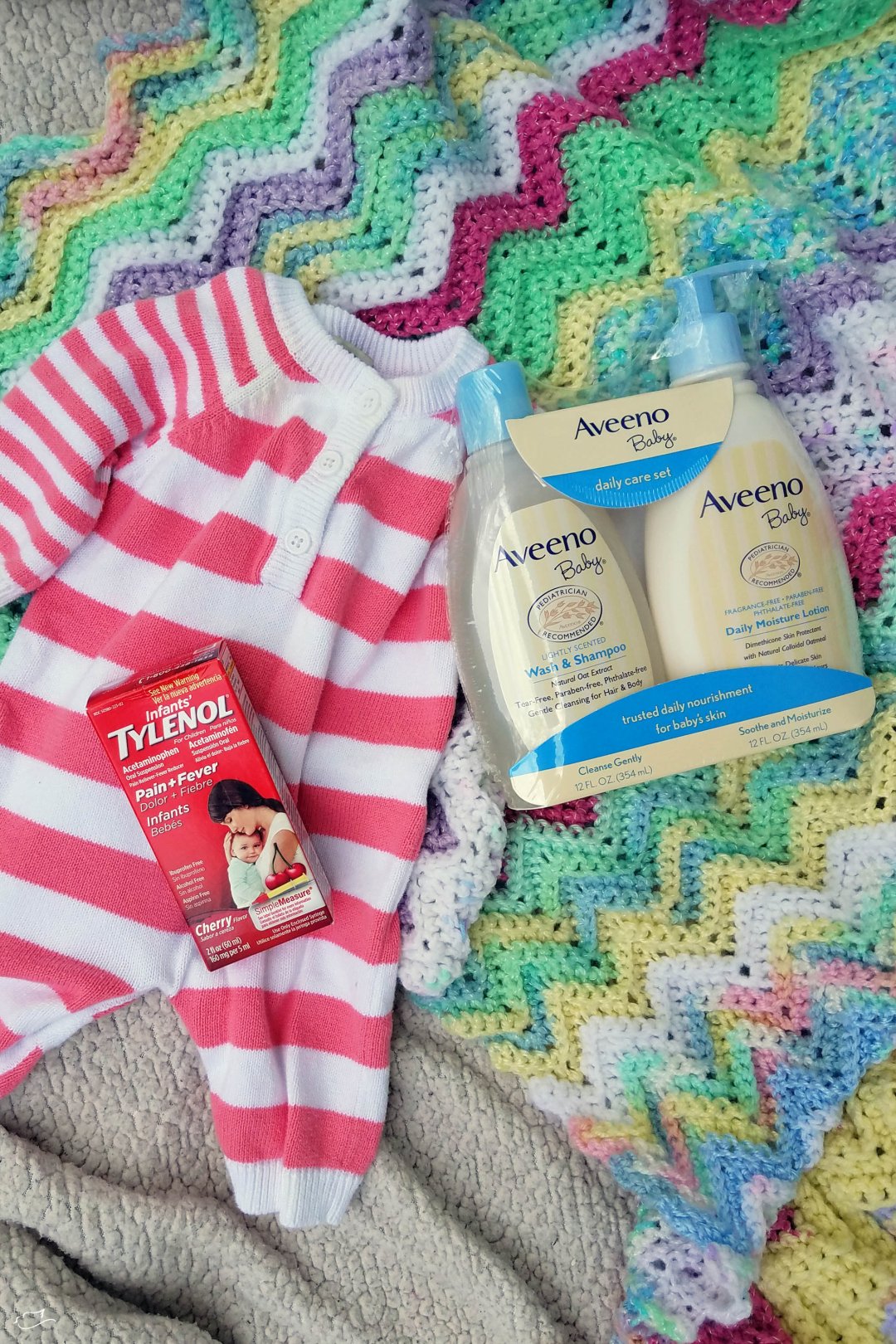 Hover over the image to shop these great products that are perfect for baby!

medicine/first aid items
It's also a good idea to register for the things you hope you don't have to use, but know that you probably will. Check the expiration dates on your medications and register for any that you might need. TYLENOL® for infants is a pain and fever reliever that our family trusts, and the simple measure dosage syringe makes it easy to dispense the right amount every time!
baby clothing
When I found out I was pregnant with our third child and that it was another girl my first thought was, "well, I already have all the clothing I'll need!" Then I quickly realized that a May baby and a February baby would be wearing different season-appropriate clothing. Whomp, whomp. Think about what season your babies have been born in, and also consider which clothing items might be too well used to pass down to the next kid.
"big ticket" items
Are you having your second child and in need of a double stroller? Is your car seat past its expiration date? Are there some "splurge" items you would have liked to get the first time around but never got around to purchasing? How is your diaper bag holding up after its daily wear and tear? These are great questions to ask yourself when you're adding to your registry.

other reasons why you should register
people are going to want to buy you gifts anyway
Come on, you know that there are some people that are going to want to give you gifts anyway, even if it is your third bouncing, baby boy and there's no baby shower in sight. And although some people are really good at gifting thoughtful, spontaneous gifts, there are definitely some well-meaning individuals that you really don't want to go rogue and need as much helpful guidance as necessary. You know who I'm talking about.
you get a completion discount coupon
Target generously offers anyone that opens a baby registry a 15% off discount coupon. You get this emailed to you 8 weeks before your delivery date so you can buy anything that's left on your registry and be ready when it's baby time. Since the last few weeks leading up to delivery usually find me stocking up on freezer meals and furiously making sure every spot of the house is clean, I really appreciate that loading up on the necessary baby gear is one last thing I have to worry about!
you get a free swag bag when you register
Target might call it a Welcome Kit, but with $50 worth of coupons and samples I choose to call it a swag bag. I was so surprised at all of the quality samples that were included in my Welcome Kit (aka. swag bag); they have definitely come a long way since I registered for my first baby nearly eight years ago!
it makes life so much easier
From the Target registry app to the group gifting feature that makes it easier for people to contribute to a gift together, the Target baby registry does everything it can to make your mom life a little simpler. I also love that you have the ability to make hassle-free returns and exchanges of items from your registry up to a year after your delivery date–that's so helpful!
Have you opened up a Target baby registry? What were some of your must-have items?